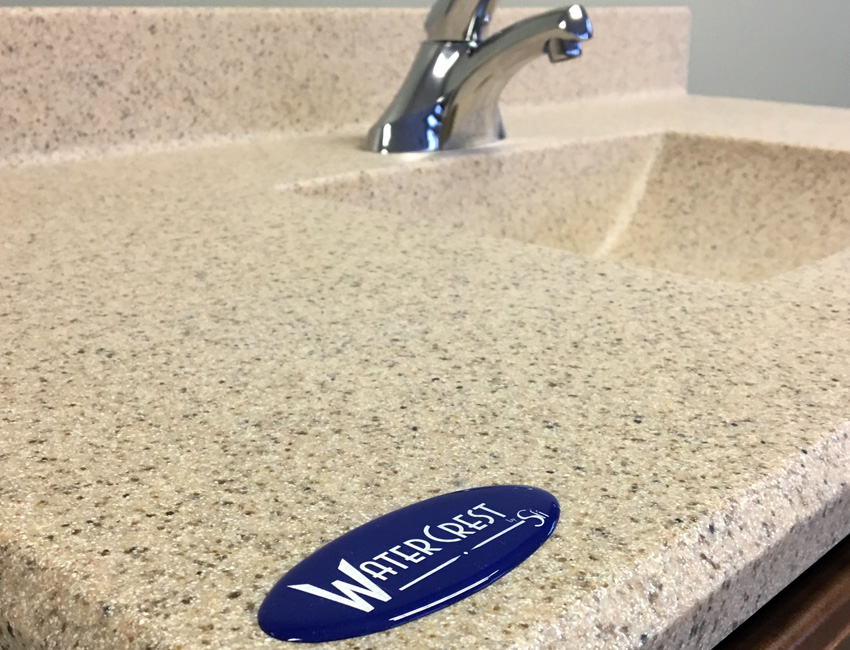 Water Crest Vanity Sink Tops
Water Crest is an SFI product line produced from a hand-poured, cast method for vanity tops. It combines the cost effectiveness of normal polyester cast sinks with the durability of solid surface materials. The main body of the sink is a normal cast material. The colored, top layer is a hybrid polymer resin system, mixed with actual natural minerals such as marble and granite, and is chemically fused to the main body. This creates a veneer effect that has the durability of a normal solid surface.
Features
Water Crest tops feature a 1-1/8″ thick deck, an integral backsplash (3-5/8″ taller than the deck, 4″ on a bevel top), integral bowl, speckled / granite-style top with a matte or gloss finish.
Edge Options
Standard edge profile is slightly-eased, bevel and OG edge options also available.
Depth Options
Standard depth is 22-1/4″ and minimum depth is 18-1/2″.
Bowl options
Standard bowl (SFI's 101 Malibu) is a partially-recessed, deep oval (see bowl specifications).
Performance
Water Crest offers all the performance benefits of solid surface material. Water Crest is resistant to scratches, heat, stains, and mildew. Incidental damages such as small burns, scratches, marring, etc. can be easily repaired. (See the Care and Cleaning and Repair and Maintenance Instructions.)
Water Crest meets or exceeds the ANZI 124.3 standards as well as the applicable ANZI 124.6 standards.
Colors & Finishes
Water Crest is available in a full range of granite colors (see actual color samples) with a matte or gloss finish. All colors can be viewed here, but we recommend looking at an actual color sample prior to making your final color choice.